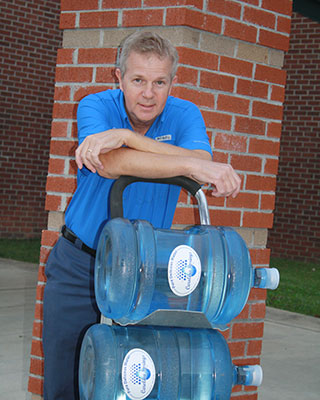 Since 1993, we have been delivering high quality 5-gallon bottled water and installing filtered drinking water dispensers at businesses in Nash, Wilson, Johnston, Edgecombe and Wake counties, including Rocky Mount, Wilson, Nashville, Middlesex, Zebulon, Bailey, Kenly, Spring Hope and surrounding areas in an effort to provide great tasting, quality drinking water to everyone. We are not your nationally known bottled water delivery company that treats you like a number and moves on. At Carolina Springs, we offer personalized service, getting to know each and every one of our customers so that we can ensure we are meeting your needs. In today's busy world where everyone rushes to make their next dollar, we are here to slow things down and to appreciate the important things in life – our customers.
What you will not find at Carolina Springs is delivery personnel that rush through the process, throwing your new bottles on your porch and rushing off to the next appointment in order to finish up their day. Instead, we take our time in talking to you and developing a meaningful business relationship. Maybe you forgot to leave out your empty bottles – don't worry – we will give you a courtesy call and let you know, rather than leaving you without your new water bottles until your next scheduled delivery date.
At Carolina Springs, we care about you – the customer, because you are the reason we started this business. We may be small, but we are mighty and you can count on us for your extra special drinking water needs. Our small bottled water delivery company is one that we enjoy coming to day in and day out, seeing our customers, and having meaningful conversations with them. We have had loyal customers for the last 22 years and it is our goal to continue to grow that number, making every customer a loyal one that looks forward to the day that the bottled water delivery guy knocks on their door.